Your Home, Christmas and Bright Lights...Beautiful!
Bright Lights Installation Services
Bright Lights is a holiday lighting installation company located in Kansas City. We provide homeowners and business owners a priceless convenience during a most stressful time of year. We install holiday lighting and decorations, maintain them throughout the season, and then return when it's all over to take them down and store them away. Our professional designers and installers have nearly a decade of experience in the business. We work with you to come up with a customized lighting design that captures your vision, and then we make it a reality using high-quality professional products and a keen eye. Hiring Bright Lights to hang your Christmas lights enables you to focus on more important things – like spending time with family and friends and shopping – during the holiday season.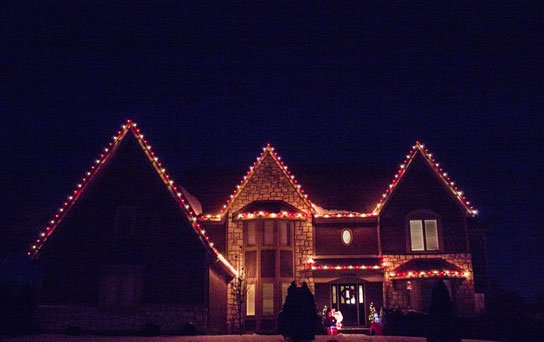 When the season is over, our professionals will take down your holiday lighting and decorations. Please take a moment to view some of the homes in our portfolio, then call us and we'll have someone to discuss all the creative ways we can make your home look wonderful this season
The earlier you call the better, as we tend to get busy as the holiday draws closer.
We hang Christmas lights so you don't have to!